Why in the world did I decide to build this thing?
Well, it all started with a couple of bike-camping trips in the summer of '21 into the Laurentians region north of Montreal, Quebec. I had cycled about 600km through hills & valleys over 15 days with 20-25kg of gear strapped to my Dyad e-bike.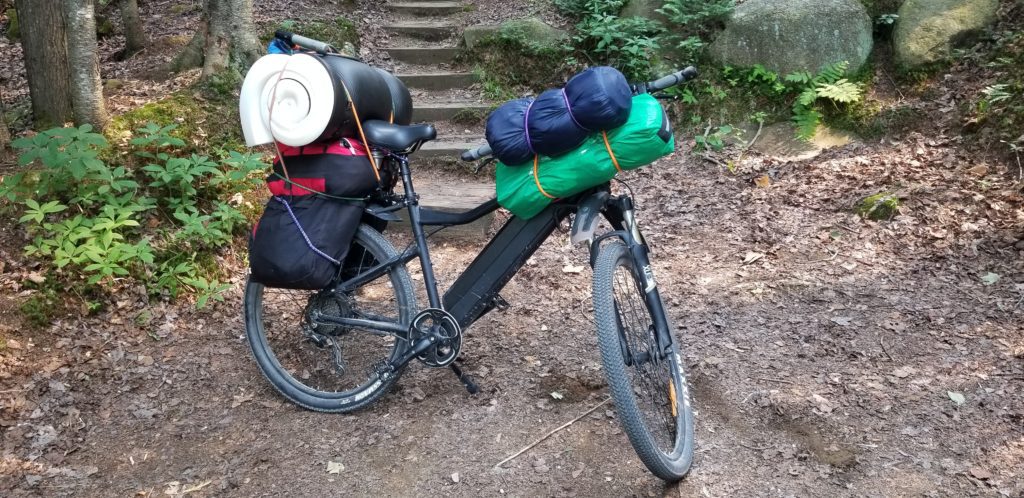 Only a couple of kilos of that weight was made up of mostly non-perishable foodstuffs (rice, macaroni, potatoes, onions, seasonings), in case there were no grocery stores where I'd be stopping. There were, so I managed to whip up some savory meals. Had to get creative with some quick whittling though 'cos I forgot to bring some tongs.
Even laden with gear, that awesome little beast pedals just fine like a regular bike on level roads. Granted, the weight does mean there's a bit of extra inertia to overcome from a dead stop, but that translates to momentum once underway, so not a big deal. It can also cover 100km without pedaling on level roads, with li'l ol' 90kg me riding it. The battery on that thing is impressive!
However, climbing hills without the motor assist is a no-thank-you, especially with the gear I was packing and in the hill country I was exploring. For example, one 20km stretch of my first trip into hills with crazy steep grades (up to 7.5%) ate up half of the battery. I would have considered attempting that on a regular bike with no motor in my 20's (when I was still immortal & invincible), but now that I'm 60: don't wanna, don't hafta, ain't gonna.
So I was limited to commercial campsites with electricity to be sure I could get the bike charged up every night.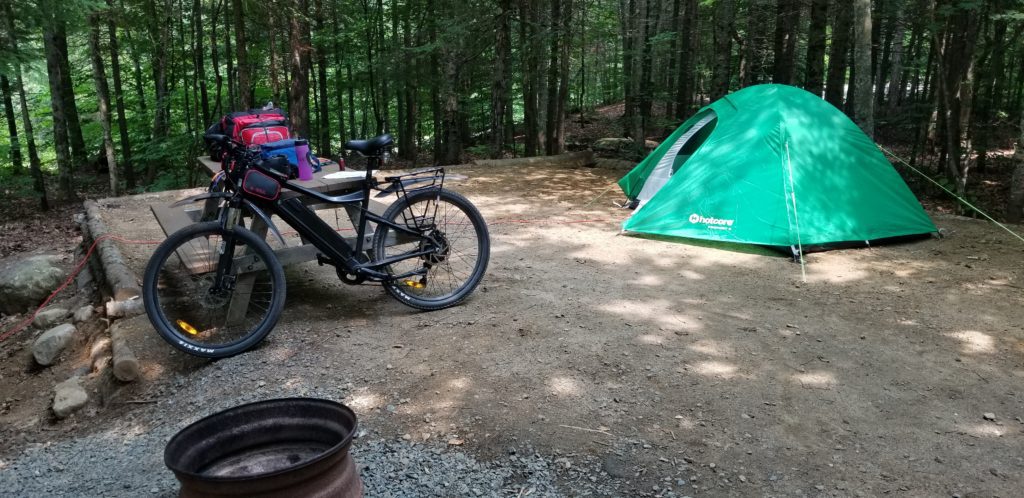 Another thing is having to pitch the tent every day, sometimes in the mud after/during rain. If setting up camp in the rain, the inside of the tent is gonna get mighty wet until the rain-fly gets up. Then you gotta really scrub & dry the tent when packing it all up again the next morning. While it only takes a few minutes to set up a tent, getting it and me soaked like that just doesn't appeal to me.
By the way, a little gasifier twig stove like the one in the video above is an awesome little piece of kit to take along. Weighs practically nothing and is great to boil water for a morning coffee or noodles for lunch without having to get a campfire going. Pop a little grill on it and it's fine for a sausage or burger too, as long as you feed it.
Anyhoo, while out on my first excursion, the forecast called for a few consecutive days of rain. So I canceled one leg of that trip and extended my stay in an admittedly very nice commercial campground to avoid the mud.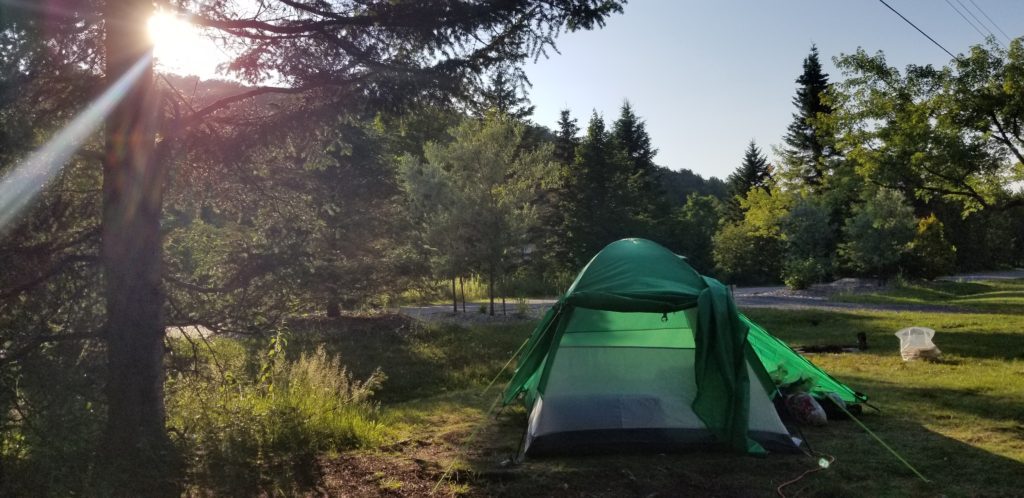 That cancellation bugged me though as I was looking forward to a part of the trip where I would have camped on soft riverside sandbars, and gone kayaking & tubing during the day.
There were also many occasions during those excursions when I would have liked to take a side-trip to explore something along my route, or just have some fun bouncing around some woodsy trail I had spotted.
That e-bike is built for trail riding, but having that extra weight strapped on the rear rack made it too unwieldy for trails. I would have had to unpack everything, stow the gear somewhere, go on the side trip, then pack it all back up again to continue to my planned destination. Not.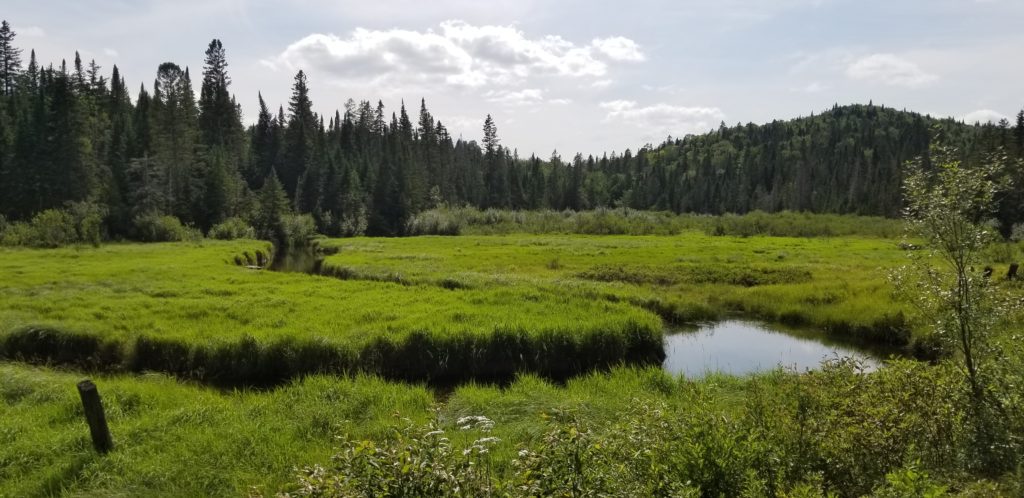 In one of the campgrounds I stayed at on the first trip, I rented one of their cute little glamping cabins for a night of pure luxury. I found that so enjoyable, I booked that same cabin for 5 nights on my 2nd trip out there.
Having all my gear stowed in that cabin gave me the freedom to go exploring as I wished during the day.
I'll admit though I also took full advantage of that luxury to just lounge around the firepit and stuff myself with grilled meats.
Renting a cabin, or any other kind of glamping unit, does have its appeals of course. Gear can be safely stowed in the cabin while exploring within a radius of about 40km on a full-day excursion. That's an awful lot of ground to cover, and can be chock full of trails and awesome sights.
But it comes at a cost. I paid $142 for one night on my first trip out during high season, and $577 for 5 nights on the second trip. That's about what this camper-trailer build cost, and I get to take that back home with me and use again for the next trip.
So, building a camper-trailer with a popup canopy + solar panel & power bank eliminates a bunch of those irritants, and provides a mobile glamping experience at no additional cost without having to stay in commercial campgrounds. Win-win!